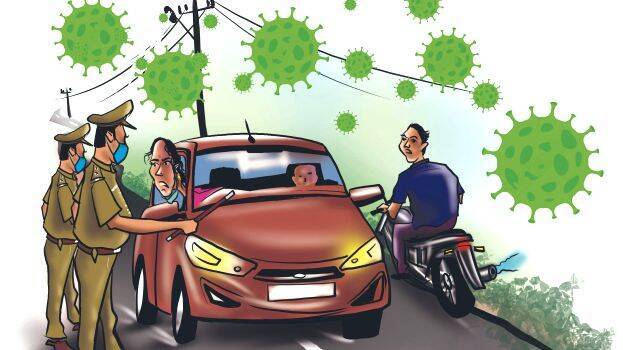 THIRUVANANTHAPURAM: Most among the 12 lakh cases registered by the police against violators of Covid restrictions will be withdrawn.
This is due to the large number of cases, the congestion and time loss in the courts and the excessive workload of the police. The Chief Minister has called a high-level meeting on 29th of this month to take a final decision. The DGP directed the district police chiefs to check each case and provide information about the cases that can be withdrawn.
Most of the registered cases are petty cases which can be fined from Rs 500 to Rs 25,000 for not wearing a mask, violating quarantine etc. All these will be withdrawn.
Vehicles that violated the regulations were impounded and fined. When they were caught, some paid the amount, but most did not pay the fine.
A fine of more than Rs 35 crore has been imposed for violating Covid regulations. Most of the fines have not been paid. The police took prosecution action against those who did not pay the fine and those who were involved in serious crime. While chargesheets have been filed in some cases, investigations are ongoing in many cases.
12,27,065 cases were registered from March 2020 to March 19, 2022, the initial phase of the pandemic. The cases were under the Infectious Disease Prevention Act passed by the state government.
The Centre had also given instructions to take a decision after examining the situation of increased number of cases in the courts. According to this, the Home Secretary had instructed the DGP to take steps to withdraw the cases. Chief Secretary, Home Secretary, Law Secretary and DGP will attend the meeting called by the Chief Minister.
These cases will continue in court
#Criminal cases of assaulting and obstructing the duty of police and health workers who were out to implement the Covid restrictions will not be withdrawn.
# The cases of opening shops in violation of the regulations and creating crowds, holding public functions and processions, and violence against the Covid restrictions will continue.
12.27 lakh cases
(March 2020 to March 19, 2022).
Total cases...............12,27,065
Fine imposed................................... 35 crores
Case for not wearing a mask...................4,23,735
Quarantine violation case..............14,981
Arrested...................................5,46,579
Impounded vehicles......... 5,36,911