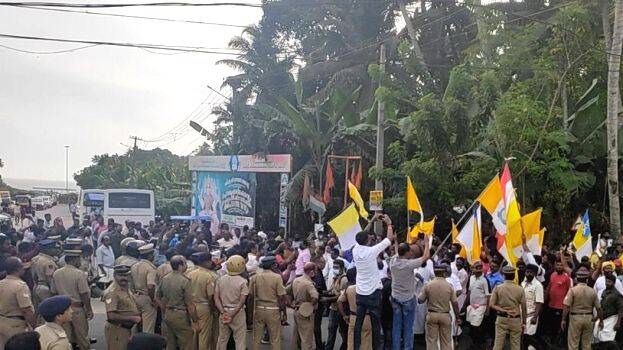 VIZHINJAM: Supreme Court lawyer and social worker Prashant Bhushan said that Adani will abandon the port construction and leave the state and the government will take a favourable decision. He was inaugurating the public meeting held at the gate of Vizhinjam harbour to conclude the public awareness journey organized in solidarity with the Vizhinjam movement.
He said that he has personally understood the coastal erosion and the difficulties and problems faced by the fishermen. "It is a shame that even though the Modi government is the main reason for Adani's increase in wealth, the leftist government in Kerala is taking a stand in favour of increasing his wealth. He said that if the protesters stick together and fight, the government will accept their demands", he said.
Thiruvananthapuram Latin Archdiocese President Dr. Thomas J. Neto presided over the general meeting. Vicar General Eugene H Perera, Dr M Soosapakyam, Joseph Jude, Dr Lawrence Kulas and others spoke.
Silver Line will be disastrous for Kerala: Prashant Bhushan
THIRUVANANTHAPURAM: Prashant said that Silverline will be a disaster for Kerala economically and socially. "The government is going ahead with the Silver Line project without learning the consequences. Silver Line's DPR is filled with irregularities. It is said that loans will be taken from sources including Japan to meet the estimated cost of the project, which is Rs 1 lakh crore. The yearly interest alone will be Rs 5000. Ticket charges will have to be hiked to cover these expenses. It is a question as to how many people will travel by paying the premium", he said.