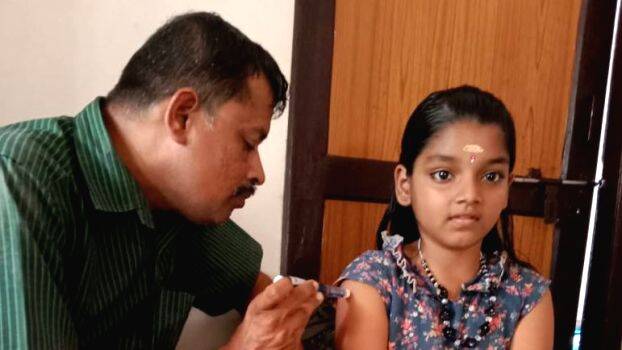 TRISSUR: Sreenanda, a fourth standard girl of Moyans School in Palakkad and a type 1 diabetic patient, will now get insulin as much as she needs. Thanks to lyricist BK Harinarayan and music director, M Jayachandran, whose intervention made this possible.
Earlier, Sreenanda used to get controlled amount of insulin from Trissur Medical College once every two months. Now she can access it from Palakkad District Hospital as per her need. Health Minister, Veena George, arranged for insulin supply for the child after her plight was brought to the notice of the minister by BK Harinarayan.
Sreenanda is the daughter of Suresh Kumar, a driver, and lives in a rented house at Vaidyanathpuram in Kalpathi.
It was M Jayachandran who spoke about Sreenanda to Harinarayan during the composing of a song in Kochi a few weeks back. Jayachandran, who used to help Sreenanda in his personal capacity requested Harinarayan to pitch in for her medical care.
Harinarayan brought this issue to the notice of the Health Minister during a program in Trissur. Minster Veena George called up Suresh Kumar and made the necessary arrangements.
It was during the shoot of 'Odiyan' that Suresh Kumar met Jayachandran. Suresh Kumar, who was the driver of director Sreekumar Menon, related his plight to Jayachandran during a ride.
With the intervention of the Health Minister, Sreenanda will now have special attention in her school and the teacher's will be made aware of her condition. She will be under observation by a nurse and other health workers.
In addition, the Minister has arranged for the supply of insulin to other children suffering from diabetes in Palakkad.
Sreenanda is suffering from Type 1 diabetes in which her sugar level will drop to 27 and shoot up to 672. She is being suffering from this condition since the age of four. She reaches the school with Glucometer and insulin. She checks her sugar level on her own and also administers insulin. When her sugar level drops, she faints and can be revived only after being given glucose. Her mother, Prameela, had to leave a job in a private firm to take care of her. Sreenanda needs to check her sugar level eight times a day and must take insulin 4 times.
The insulin pump that can automatically pump insulin into her body costs Rs.7 lakhs with monthly cost of maintenance touching Rs.20,000.
The family is seeking the help of kind people for the medical care of Sreenanda. Those who wish to contribute can send money to the Account: 40334193073, IFSC Code is SBIN0018974. Name: Suresh Kumar MP, Shekharipuram Branch, SBI.