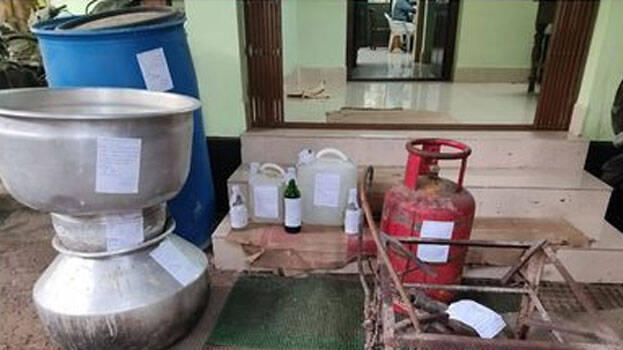 THRISSUR: Excise officials seized arrack from a KSEB official's house in Annanadu in Chalakkudy. 15 litres of arrack and 200 litres of wash and brewing equipment were seized by Chalakudy Excise Range Inspector Bijudas and his party from the house of Sukumaran, of Chattumula House in Kolothu Parappuram and Assistant Cashier of KSEB in Meloor.
When the excise team came to raid after receiving information that arrack is brewed and sold illegally, they were surprised to see Sukumaran's two-storied house. They thought that the tip off was fake when they came to know that the house owner is a KSEB employee and his wife is a school teacher,
But in the subsequent investigation, the team found that he had a pending case with the police, and decided to search the house. Sukumaran was at work at that time. During the inspection, the excise team found 15 litres of arrack and 200 litres of wash from the kitchen of the house. When Sukumaran learned about the Excise raid, he left the work place saying he has stomach ache and went into hiding. He is yet to be caught.
Sukumaran's method is to take orders only for special parties and weddings. He charges Rs 1000 per litre of arrack named 'Kingini'. He used to make this special arrack by adding more fruits and grains.
Apart from the inspector, the Excise team consisted of preventive officers Satheesh Kumar, Prince and Krishnaprasad, women civil excise officers Siji, Nimya and driver Shaiju.