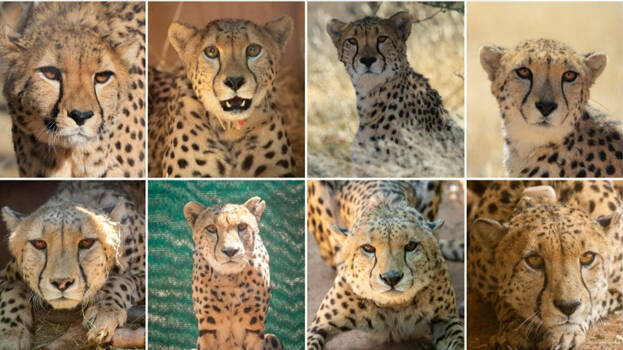 JAIPUR: The Bishnoi community in Rajasthan has declared that spotted deer(chital) cannot be served to cheetahs brought to the country from Namibia. They also protested against sending of 181 chitals to Kuno National Park from Rajasthan to serve as meal. The community is known for revering the spotted deer. 'In Rajasthan, chitals are on the verge of extinction and they should be protected. So this senseless decision of sending chital for the spotted big cats should be reconsidered,' demanded Devendra Bishnoi, President of Akhil Bhartiya Bishnoi Mahasangh.
The Bishnoi community is very protective of forests and wildlife. They demand to reconsider this decision. As of 2020, there were 3,040 spotted deer (chitals) in Rajasthan. Apart from Rajasthan, Bishnoi community members also protested in Haryana. They protested in front of the Mini Secretariat in Fatehabad and warned that they would go on an indefinite strike.
Beef served as meal for first day
The cheetahs, who arrived from Namibia with empty stomach, were first fed with beef. Eight cheetahs were given two kilos of beef each. Initially, there were doubts that the cheetahs would accept the food as they are only adapting to their new habitat in Kuno. But seven out of eight cheetahs ate the meat. The cheetahs were given their first meal on Sunday evening. But some cheetahs did not eat the whole meal. The authorities said that there is no abnormality in this. Cheetahs are animals that usually eat only once every three days.
Elephants to guard
The authorities have also brought in two elephants to protect the cheetahs. These elephants are from Satpura Tiger Reserve in Narmadapuram. The elephants named Lakshmi and Siddhanath were brought to Kuno last month. About five leopards were present in this area. The two elephants intervened and chased away four of the five leopards that had recently arrived in the zone marked for cheetahs. The two elephants are now patrolling day and night with the security team of the national park. The two elephants patrol along with the forest guards to ensure that no other wild animals come into the enclosure or vicinity.