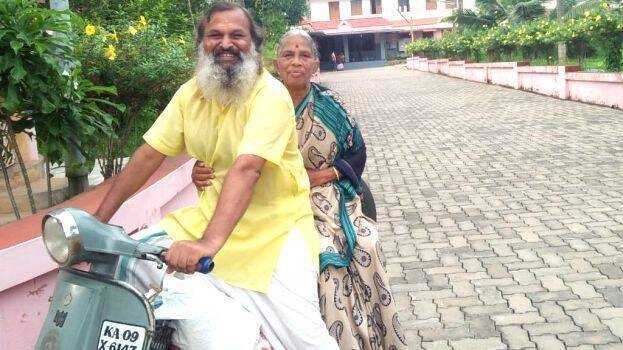 THRISSUR: Sitting on the pillion seat of an old Chetak being scooter driven by her son, Choodarathnamma is on a journey to forgetting her age. It has been four years since they both left home. Seventy-two-year-old mother and forty-four-year-old son Krishnakumar have travelled around 60,000 km so far.
The two, who started the journey from their native place of Bogadi in Mysore, went up to the Sela Pass in Arunachal at an altitude of 13,700 feet. They even crossed the border and visited countries like Nepal, Bhutan and Myanmar.
Krishnakumar, who had quit his job in a private company at the age of 40 and set off on his father's old scooter, had only one goal in his mind. He wanted to take his mother to as many temples as possible in the country. When Choodaratnamma expressed such a wish, Krishnakumar set out on a journey with his mother in January 2018 with the concept of Matruseva Yatra. Both have not returned home since then. Now, the two are travelling in Kerala.
By the time they reached Thrissur the other day, they had covered 58,669 km. They reached Kalady yesterday. The two do not have a definite itinerary. They will reach some spiritual centre before nightfall and stay there. They will only have breakfast and dinner and avoid drinks such as tea, coffee etc. They find shelters by asking locals. Choodarandamma and Krishnakumar visited Guruvayur, Vadakkunnathan Temple, Thiruvambady, Paramekkavu and Sri Ramakrishna Matt. They stayed and had food at Thekke Matt and Sri Ramakrishna Matt.
Krishnakumar, a single child and unmarried, started the 'Mathruseva Sankalpayatra' to fulfil his mother's wish. His father Dakshinamurthy died in 2015. Krishnakumar had worked as a manager in various companies in Bengaluru for 13 years. He has put the money saved from his salary in the account in the name of his mother. Their travel expenses are met by the interest obtained from this account.
Krishnakumar said that neither he nor his mother has any health problems due to rest and a regular diet. Apart from some minor repairs, the scooter gifted to him by his father is in a good condition.