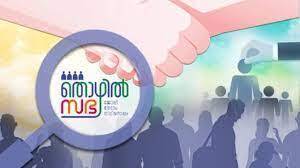 THIRUVANANTHAPURAM: Chief Minister Pinarayi Vijayan on Tuesday did the state level inauguration of 'Thozhil Sabha' which is a government project aimed at providing employment to unemployed youth.
Thozhil Sabhas will be organized in 20,000 wards on regional basis. The aim is to train 20 lakh people and to get them into jobs and ventures immediately. It will start in October.
In addition to those who have registered in the job survey conducted by Kudumbashree to find candidates with graduation and post-graduation qualifications, those who have passed Plus two and with other qualifications can also participate.
The local and district level technical committee will help to create projects for the best ventures. Approvals and licenses for projects will be expedited. Financial institutions will be recommended to provide capital to the best ventures. Training will also be provided to those needed. People who have stopped working after marriage, widows, divorced persons, scheduled tribes, tribals, fishermen, transgenders and differently abled persons will also be included in Thozhil Sabhas. It will be convened in all places from October 15-31.
How job is provided
1)Job seekers will be connected with local, state level and out of state employers.

2) Employment opportunities of government and government agencies will be introduced to the job seekers through local institutions.

3) Government training agencies will also be used to increase the potential of job seekers.

4) Economic and development plans of local bodies will be integrated with the plans of the government.
5)Employability centres and employment information centres will be established at block level.
6. Helpdesks, entrepreneurship and employment information centres will be established in municipalities to connect job seekers with these centres.
Unemployed people: 53 lakh
58% of these are women.
29 lakh people between 23- 40 age group
37.71 lakh people registered in employment exchange.
Registered people
Engineering graduates- 47,400
Engineering diploma graduates - 38,206
MBBS students- 8,559
Female doctors- 7158
Female engineers- 26,163
Scheduled castes - 5 ,43,721
Scheduled Tribes - 3,874