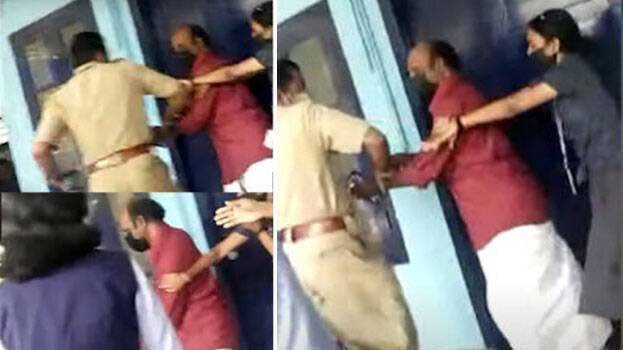 The main reason for KSRTC's present situation is the feudal mindset of majority of its employees. They do not view the passenger as their bread and butter. Moreover, they have no qualms in behaving rudely with the passengers. Most of these employees think that once they become a member of a trade union it automatically gives them the right to behave arrogantly. The incident at Kattakada depot is the latest example of this stubborn mindset.

On Tuesday, some KSRTC employees brutally thrashed a father and daughter, when they came to the Kattakada depot to renew the concession. The employee that began the fight had refused to renew the concession by giving a lame excuse that course certificate is needed to renew the girl's concession. Later, the depot in-charge told media that course certificate is not needed to renew the concession.
In fact, the employee who refused to renew the concession in the name of course certificate, has to be dismissed from the service first. However, how can such a dismissal be done? The trade union leadership will soon come in defence of this employee. Even these people have no issue to speak against the Minister and the MD with disdain.
This does not mean that every employee is arrogant and behaves rudely. There is a minority of educated employees who behaves gently and politely. However, the fact that until the majority of employees, who think that they can move against anyone physically are removed, the future of KSRTC will be in jeopardy.
However, it is a welcome move that the KSRTC management decided to suspend four employees for the attack against the father and daughter on the basis of the FIR. The management must see to it that if these persons are found guilty, they must be dismissed from the service as an example to others.
Only if unruly employees like these are removed from the service, can the KSRTC escape the present crisis it is in. Actually, it is the students' bodies who ought to intervene in concession issues faced by students. However, they seem to have no time for such things as is demonstrated through the Kattakada incident.
It would be better if the Minister can diffuse the situation by sending the girl student's concession directly to her home. In addition, a high ranking police officer must investigate the crime instead of the Kattakada police, who were reluctant to even name the accused employees.
It is assuring that the High Court have sought a report on the incident. With this, we can hope that any move to dilute the case will not happen.