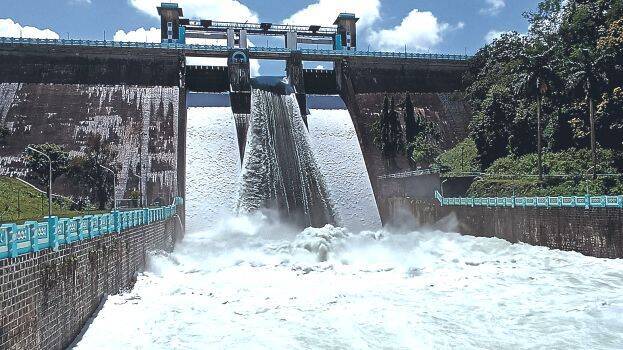 PALAKKADU: Due to the failure of maintenance work by Tamil Nadu, one of the three shutters of the Parambikulam dam broke which has led to flooding in Chalakudy river. The Parambikulam dam situated in Muthulamada in Palakkad is under Tamil Nadu's control. This has caused to a rise in water level in the Chalakudy river.
Though, there is no immediate threat, the authorities are maintaining caution. The water level in the dam will take two days to come below the shutter. Only if the water level dips to 25 feet can the maintenance work be done on the broken shutter. The authorities have shifted people living in two colonies in the Parambikulam Adivasi region. People living on the banks are asked to be on alert.
As the other two shutters were also opened to keep the dam safe, the amount of water that rushed into Perigalkuth dam reached 20,000 cubic feet per second. With this the 4 shutters of this dam was also opened. The water level in Chalakudy river rose 2 meters as a result of this. It is estimated that the water level in Chalakudy river might rise to 4.5 meter. Danger alert is given when the water level reaches 7.1 meter. By evening, the water flowing from Parambikulam lowered to 15,200 cubic feet.
The shutter broke after it could not handle the weight of the security chain that broke. The concrete has also come off where the chain was connected. Though, the dam is situated in Kerala, the control rests with Tamil Nadu, which has not yet given any clear explanation for this. Primary explanation suggests technical malfunction.
Reports say that on 21 July, the same shutter had broken. It took three days to repair it. The chain got broken because it was opened for a long time. Only a detailed examination can reveal if the lack of proper maintenance work, two months ago, had led to the present condition.
The Parambikulam dam is situated on the river flowing through the wildlife conservation area of Muthalamada panchayat. This dam has India's largest embankment for water storage. The dam was constructed in 1967 by the then CM of Tamil Nadu, Kamaraj. The waters of this dam is used for agriculture in Tamil Nadu.
Minister, Roshy Augustine said that technical experts from Kerala will inspect the dam.