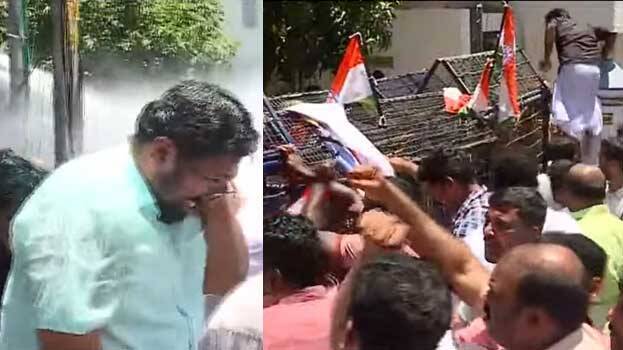 THIRUVANANTHAPURAM: The Youth Congress march, led by its State Vice President, KS Sabarinadhan, to protest against the arrest of Attipra Mandalam Youth Congress President, Jithin, turned violent. The march was held towards the Crime Branch office in the state capital, to oppose the arrest of its leader in the AKG attack case.
The violence broke out after Youth Congress activists tried to jump the police barricades and entered the crime branch office. A huge contingent of police was on standby before the march began. The activists threw flags at the police and began sloganeering. When the clash became violent, the police resorted to water cannons to disperse the Youth Congress protesters.
Youth Congress leaders accused the police of arresting an innocent person to carry out the government's agenda. Jithin had told the police that he was pressurized by police to confess to the crime. He had made this revelation while being taken back to jail after a medical checkup.