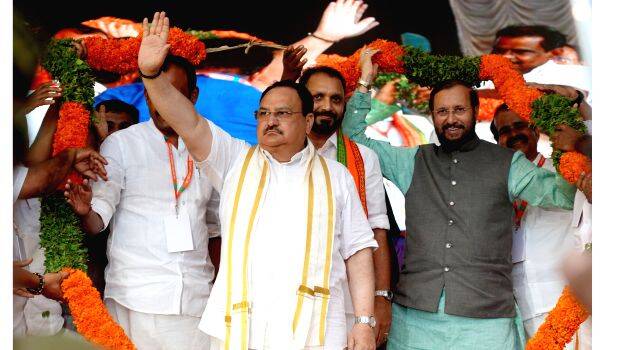 KOTTAYAM: BJP national president JP Nadda on Sunday said that terrorists are on the loose in Kerala and law and order has broken down in the state. He was inaugurating the BJP District Committee office built at Nagampadam, Kottayam.
"Corruption, terrorism and debt are haunting Kerala. BJP should come to power to end this. Even the Chief Minister's office is not free from corruption. The gold smuggling case is an example of corruption. While the central government is helping every now and then, the government is squandering it all and putting Kerala in a debt trap. Only BJP can suppress terrorism in Kerala. In 1951, BJP said that Kashmir will be saved. It was implemented by Modi and Amit Shah in 2019. We achieved the state of one country, one prime minister, one flag.", Nadda said.
"BJP is competing with local parties in the elections. It's all family parties. BJP works on the basis of ideology. BJP was raised in Kerala by workers sacrificing their lives. 10 years ago the party did not have good offices in the state. When Narendra Modi came to power, the directive was to have modern district and state committee offices. Today, 230 of the 512 district committee offices constructed in the country have been inaugurated.", he added.
State President K Surendran presided the function. Union Minister V Muraleedharan, State Prabhari Prakash Javadekar, Kummanam Rajasekharan, PK Krishnadas, District President Lijin Lal and others took part.
A visit to the temple
JP Nadda, who came to the function wearing a sandalwood color shirt, silk dhoti and shawl, visited the Sree Mahadeva temple at Nagampadam. He also visited the spot where Gurudevan gave permission for the Sivagiri pilgrimage. Plantain was planted a jack tree in the temple premise.