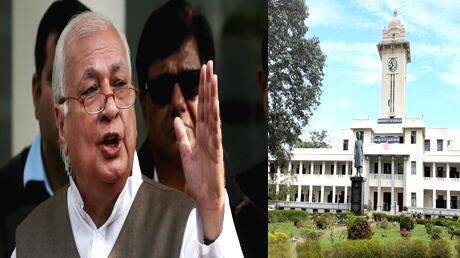 THIRUVANANTHAPURAM: The Vice Chancellor of Kerala University, VP Mahadevan Pillai, has rejected the ultimatum of the Governor to send names of the representatives for the Search Committee, today itself. However, Kerala University maintains that the Governor had formed the search committee in violation of the rules.
Governor, Arif Mohammad Khan, had shot a letter to the Vice Chancellor, last week, to suggest the names of the Senate members to be part of the Search Committee formed to select the new Vice Chancellor to Kerala University.
Following this, the Senate passed a resolution against the Governor for forming a Search Committee arbitrarily by appointing the representatives of the Governor and the UGC.
The Governor in response to the VC's reluctance and the resolution against him had shot a letter demanding that the VC send him the names of the representatives of the Senate today itself.
Vice Chancellor, VP Mahadevan Pillai, who challenged the Governor's ultimatum, might face disciplinary action from the Raj Bhavan.
The Raj Bhavan said that there was nothing illegal in forming the Search Committee as the tenure of the present VC is coming to an end on the 24th of the coming month. Earlier, the Senate had suggested Planning Board Vice President, VK Ramachandran but he resigned soon after. Raj Bhavan believes that he resigned due to the university's intervention.
On 5th August, Governor, Arif Mohammad Khan, had formed the Search Committee. Even if the Vice Chancellor did not give any representatives, the present two-member committee will go ahead in its search for a new VC.
Raj Bhavan is expected to take disciplinary action against Vice Chancellor, VP Mahadevan Pillai, for not following the Governor's orders.