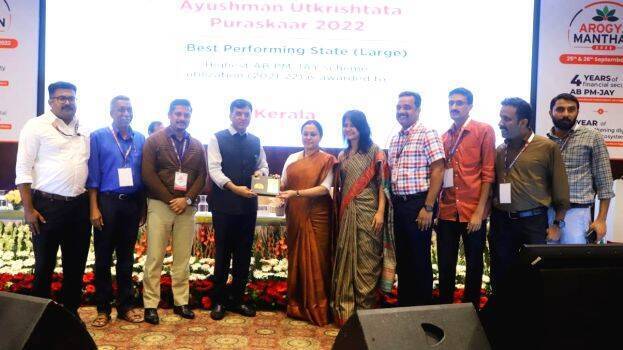 THIRUVANANTHAPURAM: Kerala has bagged the award for the state that has provided the highest number of free treatment in the Central government's Arogya Manthan 4.0. The state's Karunya Arogya Suraksha Padhathi (KASP) has bagged the best performing state award for highest utilization of the scheme. Minister Veena George received the award from Union Health Minister Mansukh Mandaviya at the function held in Delhi.
Government Medical College Kozhikode and Kottayam topped the list of hospitals by providing highest number of free treatments. The reason for choosing Kerala was that the scheme could benefit up to 180 patients per hour (maximum 3 patients per minute). Rs 1636.07 crore have been spent in providing 43.4 lakh free treatment since the formation of KASP. Currently, the service of the scheme is available in 200 government hospitals and 544 private hospitals in Kerala.
Veena George said that the state is trying to provide medical assistance to maximum number of people through the Karunya Arogya Suraksha Padhathi. This is a recognition of the excellent work done by the state in providing medical treatment. State Health Agency (SHA) was formed under the Health Department of state for the successful implementation of the KASP scheme. The minister said that SHA played a big role in co-ordinating treatment with the participation of private hospitals.
Kerala Health Department principal secretary Tinku Biswal, State Health Agency Kerala, executive director Dr. Ratan Kelkar also attended the award ceremony along with the minister.