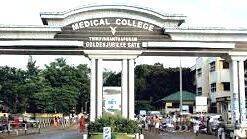 THIRUVANANTHAPURAM: The lab set up at Thiruvananthapuram Medical College for crossmatching tests for organ transplantation at a cost of Rs 3.5 crore has not been functioning for a year. Crossmatching costs Rs 3800 was free for the poor. But now it is being done in the lab of a private hospital in Kochi. It costs Rs 7000-8000 including ambulance expense. This is a test to check if the donor's organ will be accepted by the recipient's body.

Mrithasanjeevani's funds were taken for the lab, which was first such lab made in the government sector in South India. The lab authorities stated that the crisis is due to damaged UPSs and lack of reagents.
The samples of the four recipients for organ transplant will be sent to Kochi in an ambulance. The cost will be shared equally by all four. This is how crossmatching was done in an organ donation held in Thiruvananthapuram last Wednesday. Mrithasanjeevani in charge of the Crossmatching Lab under the Department of Pathology.
Hours lost
Three hours are enough to get the crossmatching result. As it is sent from Thiruvananthapuram to Kochi, the loss is up to 10 hours. The ambulance will return after delivering the sample to Kochi. The result will be reported from the lab at Mrithasanjeevani. As the test was not available at the Kochi lab on July 7, the private hospital in Madurai was relied upon at night.
The authorities said that the lab is not operating due to unavailability of funds from Mrithasanjeevani. While Mrithasanjeevani nodal officer Noble Gracius says that the lab is ready.