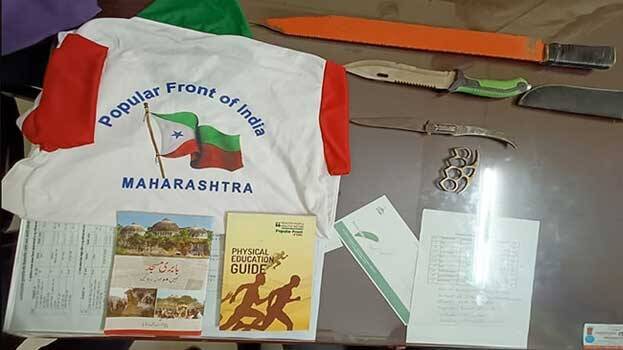 NEW DELHI: Investigation agencies have found a bomb-making manual during a raid on Popular Front of India (PFI) centres. The new report surfaced after two weeks of nationwide raids by the NIA and ED on the homes and institutions of Popular Front leaders.
The central government, on Wednesday, issued an order declaring the Popular Front of India (PFI) and its affiliate organizations as unlawful. The ban under the UAPA Act is for five years. The order says that the organization has carried out terrorist activities and murders.
The ED said that during the search, they found pamphlets explaining how to make bombs like IEDs (Improvised Explosive Devices) using readily available materials. Officials disclosed that the documents were found from the possession of PFI leader Mohammed Nadeem of Barabanki, Uttar Pradesh. The investigation team also stated that a similar document was found from PFI leader Ahmed Beg Nadvi from Khadra in UP.
Officials also said hundreds of other pieces of evidence were found in the raids to corroborate the crime. Pamphlets and CDs on Mission 2047 (a plan to turn India into an Islamic state within the next 25 years) were recovered from the home of the PFI vice-president in Maharashtra, and pen drives containing footage related to ISIS and Gajwa-e-Hind were handed over to UPI. Officials also clarified that it was received from the PFI leader.
According to the investigation team, there is a presence of PFI and its affiliated organizations in seventeen states of the country and more than 1300 criminal cases have been filed against them in many states.
The central government order reads that PFI and its associates or affiliates or fronts have been indulging in unlawful activities, which are prejudicial to the integrity, sovereignty and security of the country and have the potential to disturb public peace and communal harmony of the country and support militancy in the country. The notification says that the outfit has links with terrorist organizations including ISIS. The central government's order also refers to three murders in Kerala. The order mentions the murder of Sanjith, Abhimanyu and Bipin. The central government also said that the governments of Uttar Pradesh, Karnataka and Gujarat have recommended a ban on the PFI.