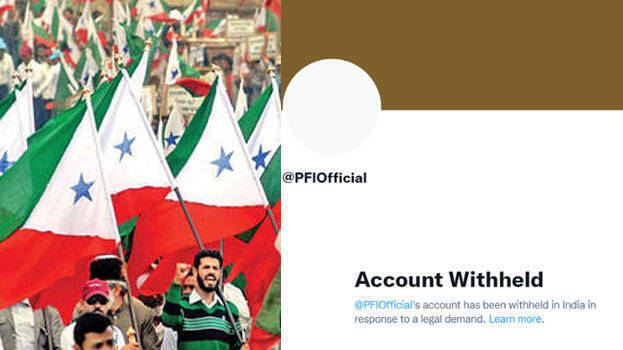 NEW DELHI: Action on social media after banning Popular Front in the country. The official Twitter account of PFI has been suspended following the directive of the central government. PFI chairman A M A Salam's Twitter account has been suspended.

Meantime, the security imposed in the states after the Popular Front was banned is continuing. The offices of the Popular Front are under scrutiny. Confiscation of assets and locking and sealing of offices are taking place in many places. The centre had also given special instructions to monitor the leaders and supporters of the organization.

In the meanwhile, the state government issued an order to take further steps in connection with the ban of Popular Front. The central notification and instructions were received by the government yesterday but no order was issued. The government has issued the order entrusting the SPs and district collectors to take further action under the UAPA Act. The order was issued by the home secretary. The DGP will issue a detailed circular. Procedures will begin including the sealing of PFI offices in the state, today.
Meantime, the police are conducting raid at the houses of PFI leaders in Pathanamthitta. The police are conducting raids at three places in Konni and Kummanur. The raids are at the houses of PFI leaders Muhammad Shaan and Ajmal. They are accused in the violence case that happened on the hartal day.