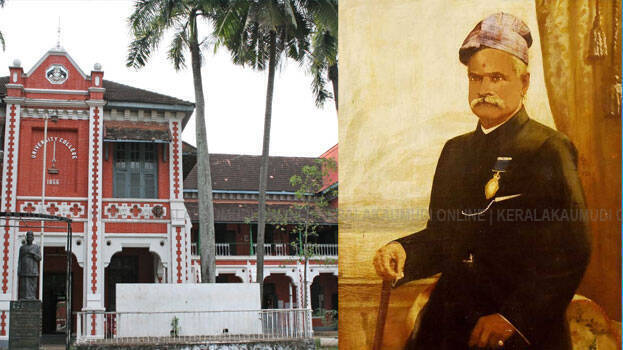 Thiruvananthapuram: Four priceless paintings by the legendary painter, Raja Ravi Varma, are waiting for rebirth, at the Kerala University College. Currently, the paintings are kept in the Principal's room.
Only one of the paintings has the signature of the artist and the year clearly marked on it. The signature is on the portrait of John Ross, who was the first principal of the college.
Principal, Saji Stephen, told Kerala Kaumudi, that these paintings were brought here for secure keeping after it was found to be priceless works of art. He said that Rs.92 lakhs have been allocated for its safekeeping.

The centuries-old paintings are damaged in many places. A lot of work is needed to restore it to its original self. However, experts warn that if it is not done, the paintings can never be returned to their former glory.
Restoration expert, Narayan Namboothiri, said that the restoration work must start immediately. Restoring a single painting will take six months to complete. The work needs special lights and a conservation lab.
He revealed that once the restoration works are done, there will be nothing to worry about for 300 years.
Paintings drawn by Raja Ravi Varma are considered a national treasure by the Central Government. Therefore, none of his paintings can be handed to foreign countries. His paintings are kept in a secure environment at Jagan Mohan Palace in Mysore, National Gallery of Modern Art in Delhi, Salar Jung Museum in Hyderabad, National Art Gallery in Chennai, Sree Chitra Art Gallery, and Kowdiyar Palace.

The value of some of the paintings in private holdings was bought in auction for Rs.20 crore to Rs.30 crore.
Raja Ravi Varma was born on 29 April, 1848 at Kilimanoor. He has painted two thousand paintings during his illustrious life. He was also a great poet and philosopher. He made the art of painting, which was reserved for the elite and high caste, more accessible to the common man.
He died on 2nd October 1901, aged 58.