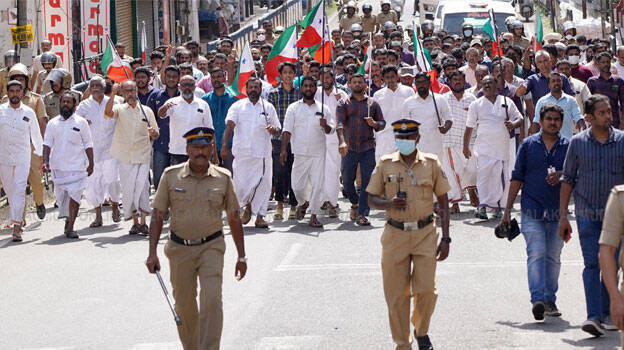 KOCHI: The High Court has ordered the leaders of the Popular Front of India (PFI) to deposit Rs 5.20 crore to the government within two weeks for the damages they caused on the hartal day. The High Court also directed the government to make General Secretary A Abdul Sattar an accused in all the cases registered in the state in connection with the hartal violence.
The compensation should be handed over to the Additional Chief Secretary, Home Department. Justice AK Jayasankaran Nambiar and Justice CP Muhammad Niyaz also ordered recovery of the amount through revenue recovery from the properties of the PFI office-bearers if the amount is not paid within two weeks. The direction came in a suo-motu case considered by the Division Bench. The petition will be heard again on October 17 to update about the steps taken by the government on the order.

The court said that PFI and Abdul Sattar are directly responsible for the violence on the hartal day. The court accused the government of not intervening to stop the demonstrations and violence despite an order declaring lightning hartals illegal. "We cannot allow people to live in fear of violence by political parties and organized forces. The rule of law should be enforced, not mob rule. Had action been taken on the January 7, 2019 order banning the flash strike, there would not have been demonstrations and mobs", said the court.
Distribution through Claims Commissioner
The amount should be kept in a separate account and distributed through the Claims Commissioner to the ones who suffered damages
If the Claims Commissioner orders payment of more than this, the same shall be recovered from the organization.
While considering the bail application, they should be directed to deposit an amount equivalent to the damage caused by them.
Office and staff should be provided to Advocate PD Sharangadharan, the Claims Commissioner, within three weeks
Violence and arrests
(As per the Govt.)
Arrested-1922
Precautionary arrests- 687
Cases of violence-417
Destruction of public property case-63
Of these, 48 were arrested
Case of obstruction of public road-118
Loss in violence against private vehicles and establishments-12 lakhs
KSRTC suffers loss amounting to Rs 5.06 cr
Due to service interruption: Rs.3,95,82,969
Repair of vehicles : Rs 9,71,115
Maintenance due to service interruption: Rs 86,53,830
Job loss: Rs 14,13,468