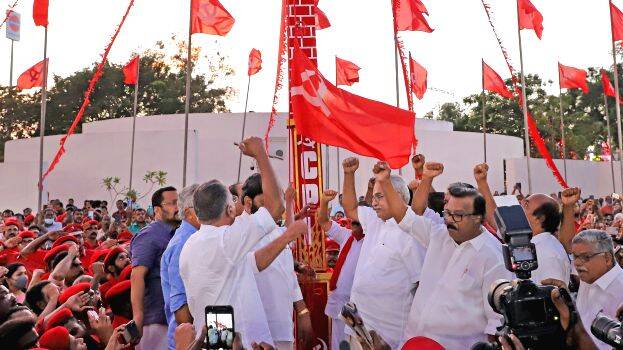 THIRUVANANTHAPURAM: The CPI will enter the state delegates' conference today amidst unrest over sectarianism within the party. CPI state executive member C Divakaran will hoist the flag at Tagore Theater at 10.30 am. General secretary D Raja will inaugurate the conference. State secretary Kanam Rajendran will present political and organizational reports. After the discussions and replies, the conference will conclude with the election of the new state council and secretary at 3 pm.
The party is witnessing a heated discussion regarding the age limit criteria. While the state leadership is adamant that the age limit system will be implemented at the state conference, the national leadership has shown a different tone that there is no need for strict implementation of the system. General Secretary D Raja's response that the age limit criteria was only a guideline and that states were discussing it was interpreted as siding with the faction opposing the state leadership. The opposition faction may try to raise a challenge in the state conference by organizing the criticism raised in the districts against the approaches of the state leadership. The state leadership is preparing to defend and gain the upper hand. The possibility of a contest hasn't subsided yet.

Divakaran and Ismail soften stance
C Divakaran was criticized in the state executive committee meeting held yesterday afternoon. The meeting stated that public responses and controversies were diverting the conference discussions. It also pointed out that senior leaders should not have made such public responses. Divakaran expressed his dismay that the discussions got diverted to things he did not intend. Later, both Ismail and Divakaran softened their stance. Ismail said that he will remain in the party whether the age limit system was implemented or not. Divakaran said that the party will implement the age limit criteria as it was directed by the central leadership.