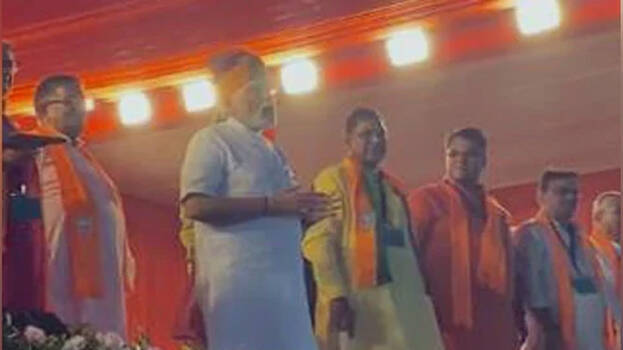 JAIPUR: Prime Minister Narendra Modi did not address a rally in Rajasthan. He apologized and said that he has to follow the loudspeaker rules and regulations and therefore he is not speaking much. Modi was supposed to address the rally held in the Abu Road area of Sirohi.
'I arrived late. It's 10 pm. My conscience says that I should follow the rules. But I promise you that I will come here again and repay the love and affection you have given me with interest,' he said.
The Prime Minister spoke to the people without using a microphone. He then raised the slogan 'Bharat Mata ki Jai' and the people followed. Modi, who arrived in the state, was received by state BJP president Satish Poonia, former chief minister Vasundhara Raje, Union minister Gajendra Singh Shakawat, leader of the opposition in the state assembly Gulab Chand Kataria and deputy Rajendra Rathore.
The rule is that loudspeakers should not be used between 10 pm and 6 am except in conference halls, auditoriums and places where emergency meetings are held.