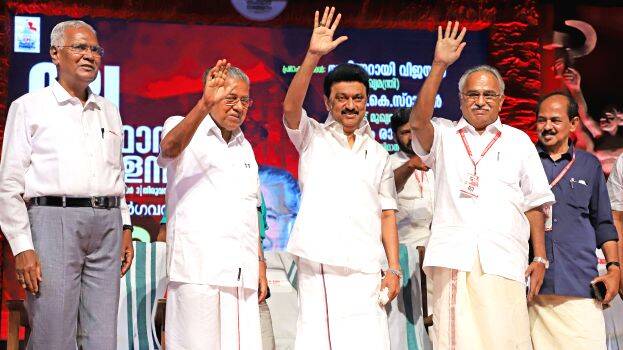 THIRUVANANTHAPURAM: The Chief Minister, Pinarayi Vijayan, accused the NDA government of appropriating the powers of the state with every reform. He added that Kerala suffered the most because of this. He told that the reason for this is because BJP, just like Congress, does not believe in federalism.
Pinarayi Vijayan made this statement while speaking at a seminar on Federalism and Central-State Relationship, on the sidelines of the CPI State Conference.
The Chief Minister said that Kerala, which got 3.87% from the Tenth Finance Commission, only got 1.92% of the share now. The states are now approaching the Supreme Court to get a share of GST revenues. The central government is decreasing the tax due to the state while raising the cess, which the center need not share with the states.
The share of the States in the Central Governmental projects has been raised to 40% from 25%. This has prevented the center's help in developmental projects. The collectors are controlled directly by the Central Government.
The Chief Minister continued that the BJP is following the in the same footsteps of Congress when it comes to negating federalism. RSS, which is behind the BJP does not need federalism at all. They are advocating replacing parliamentary democracy with a presidential-type government.
Congress had rejected many instructions for federalism that were put forward to it. The Chief Minister said that the states must join together to fight to bring about democratic relations between the center and the state to maintain the cultural diversity of the country.
The meeting was conducted at Tagore Hall and was presided over by CPI State Secretary, Kanam Rajendran. Tamil Nadu Chief Minister, MK Stalin, CPI General Secretary, D Raja, Central Committee member, Athul Kumar Anjan, and other dignitaries attended the meeting.