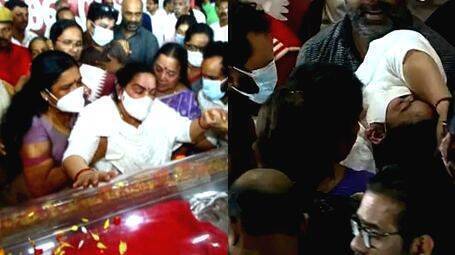 KANNUR: Thalassery Town Hall witnessed emotional scenes during the public viewing of the mortal remains of CPM former state secretary Kodiyeri Balakrishnan. His wife Vinodini broke into tears and collapsed. Vinodini, who was exhausted, was held by her son Bineesh Kodiyeri and the leaders. Thousands gathered to see their dear leader during public homage which started at 3pm. Chief Minister Pinarayi Vijayan draped the red flag on Kodiyeri's body and paid his last respects to the revolutionary leader who was his close companion. When Pinarayi Vijayan saluted with a clenched fist, Vinodini burst into tears.
Pinarayi Vijayan and his wife Kamala comforted Vinodini who reached the Town Hall. But when she came near the coffin where Kodiyeri's body was kept, she started crying and collapsed. Then Binoy Kodiyeri, Bineesh Kodiyeri, his wife, CPM leaders PK Sreemathy, KK Shailaja and others rushed to her and shifted her to Kodiyeri's house in Peedika.
Kodiyeri passed away at Apollo Hospital in Chennai on Saturday at 8 pm. His wife Vinodini, son Bineesh and his wife Rineeta had accompanied the body from Chennai. CPM Kannur district secretary MV Jayarajan received the body at the airport. The body was brought to Thalassery Town Hall in a specially equipped ambulance from Kannur Airport. Public viewing will continue at the Town Hall until 8pm today. The body will be brought to Kannur district committee office tomorrow for public viewing. Cremation with full official honors is at Payyambalam on Monday at 3 pm.