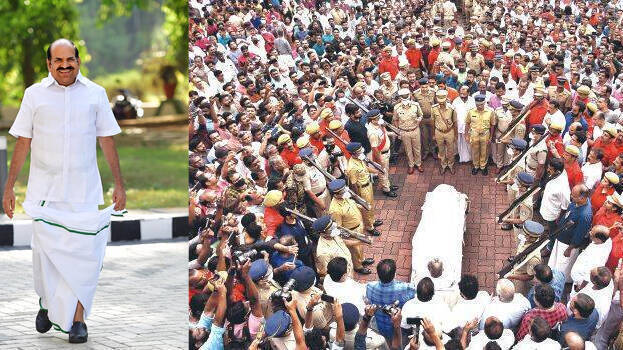 KANNUR: The state will bid a tearful adieu to CPM state secretary and politburo member Kodiyeri Balakrishnan on Monday. The body will be cremated at Payyambalam beach at 3 pm. He will be laid to rest with official honours. Many including central leaders of CPM will attend his funeral.
The body of Kodiyeri is presently at his house in Eengayilpeedika. Arrangements have been made for his relatives and other people to offer their tributes to the leader till 11 am. After that the body will be taken to Kannur district committee office as a procession. The body will be there till 3 pm.

Tens of thousands from different parts of the state flocked to Thalassery Town Hall to pay their tributes to Kodiyeri. The body was brought from Chennai to Kannur airport by air ambulance at 12.55 pm yesterday. His wife Vinodini, son Bineesh and daughter-in-law Rineeta accompanied the body.
The body was received at the airport by a team led by CPM Kannur district secretary M V Jayarajan, ministers V N Vasavan, P A Muhammad Riyas, A K Saseendran, Ahmed Devarkovil and LDF convener E P Jayarajan.

The procession took two hours to reach the town hall of his native Thalassery. The activists followed with slogans. At 14 centers, people stopped to pay their respects.

Some emotional scenes were witnessed in Thalassery Town Hall. When Chief Minister Pinarayi Vijayan saluted his dear comrade who had accompanied him like a brother, Kodiyeri's wife Vinodini collapsed on top of the freezer where the body was kept. Chief Minister Pinarayi Vijayan and senior leaders draped the body with red flag. Chief Minister offered floral tributes.

Hartal in four places
As a mark of respect to Kodiyeri, a hartal will be observed in four places in Kannur. The hartal is in Kannur, Dharmadam, Thalassery and Mahi. Vehicles and hotels will not be affected.