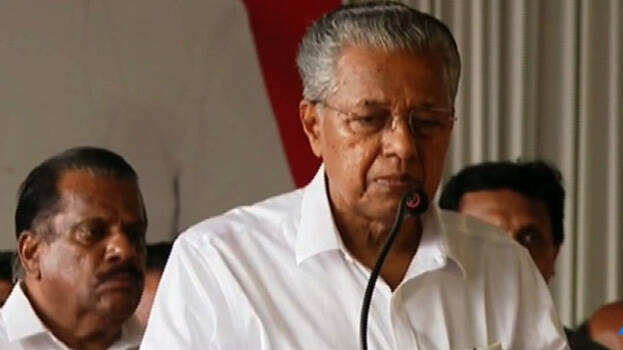 KANNUR: An emotional Chief Minister Pinarayi Vijayan was seen stumbling over his words while speaking at the condolence meeting held after bidding farewell to dear comrade Kodiyeri Balakrishnan. Pinarayi spoke with a lot of emotion throughout the speech.
"We usually resolve the demise of a leader through collective efforts. But this is not a demise that can be resolved soon. We will try to make up for it through collective action. Like I said earlier….. I'm concluding," said the CM while concluding his speech midway. Upon returning to his seat, Pinarayi Vijayan was seen shedding tears at Kodiyeri's memories.
"The fact that he has left us suddenly has caused great pain to the people in different parts of the state. They all rushed to see him one last time. That sentiment moved us all. Such a farewell was not expected. I don't know how to say it. Some things are out of our hands. When Kodiyeri's treatment began, we were hopeful. But his health later deteriorated. We made all kinds of efforts. Tried our best. There are doctors who have treated him in many places. Thanks to Chennai Apollo Hospital, doctors and especially Dr Pramod. Kodiyeri's demise has hurt everyone. All parties expressed grief in this heavy loss without taking sides. It is proof that human goodness is not over," the CM said.
Kodiyeri Balakrishnan was cremated at a specially prepared place near Payyambalam beach. Sons Binoy and Bineesh lit the pyre at around 3.50 pm.