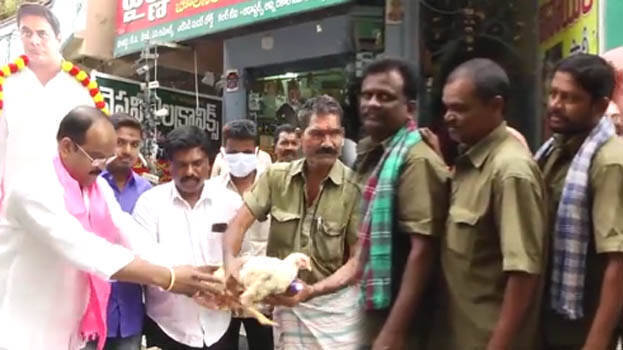 HYDERABAD: A public function held by a local leader ahead of Telangana Chief Minister and TRS President Chandrashekhar Rao's announcement of the launch of a national party, has landed in controversy. Rajanala Srihari, a TRS leader of in Warangal distributed liquor bottles and broiler chicken in public. A cutout of Chandrasekhar Rao and his son and party leader KT Rama Rao was placed in the area. The distribution happened in front of this.
The distribution ceremony by Srihari had many attendees. 200 bottles of liquor 200 chicken were also distributed to locals. After the video of the incident went viral, there was a lot of criticism raised against Srihari and the party.
Chandrashekhar Rao is expected to announce the details of his national party at the Telangana Bhavan on Wednesday, the day of Dussehra celebrations. At the same time, the BJP has strongly criticized his party for distributing alcohol at public events.