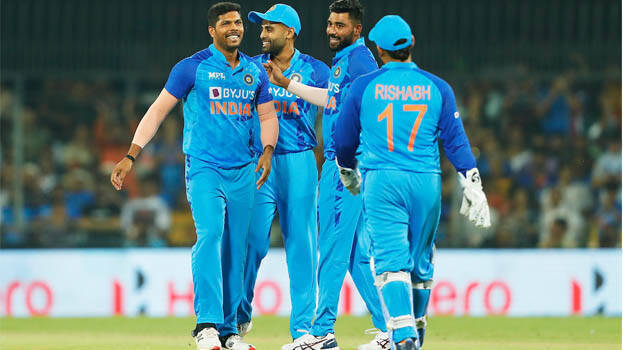 INDORE: South Africa is trying to regain confidence by winning at least the last match before the T20 World Cup. Team India is trying for a clean sweep by winning the third match. India won the toss and elected to field in the third T20I against South Africa.
As per last report, South Africa have scored 125 runs with the loss of two wickets in 12 overs. South Africa first lost the wicket of skipper Temba Bavuma, who scored just three runs off eight balls. Bavuma was dismissed by Umesh Yadav. De Kock was run out by Shreyas Iyer. Bavuma had a poor performance in the series. The captain scored only three runs. His average is just one.
Meanwhile, Quinton de Kock and Russo have crushed the Indian bowlers and earned a good score for South Africa. De Kock got out with 68 runs off 43 balls. Russo with 47 off 23 balls and Stubbs with one run at the crease. Left-arm pace bowler Arshdeep Singh is not playing the third T20I due to injury. Both Kohli and Rahul have been rested today. Shreyas Iyer, Umesh Yadav and Mohammad Siraj were included in the team today.