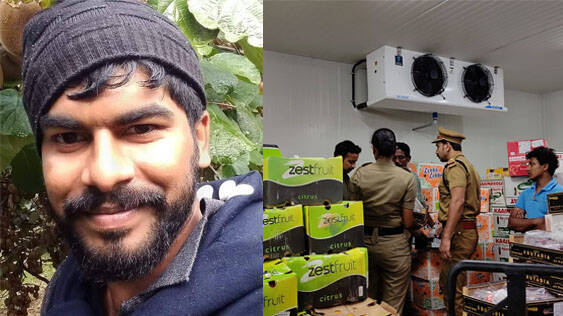 KOCHI: Investigation focusing on Kochi has intensified after a Malayali was arrested for importing large quantity of drugs in the country under the guise of importing fruits. Vijin Varghese of Kalady in Ernakulam and the managing director of Yamitto International Food in Vashi, Mumbai was arrested by the directorate of revenue intelligence. The truck carrying drugs of Rs 1476 crore was seized on September 30.

198 kg of methamphetamine and 9 kg of cocaine were seized. The drug was smuggled by concealing it among cartons of oranges. The company's warehouse and cold storage facilities are located in Kalady. The DRI stated that this is one of the biggest drug hunts in the country.
The drugs reached in the name of the company owned by Vijin. The documents showed that the oranges were imported. The DRI is searching for Vijin's partner Manzoor Thachamparambu, owner of More Fresh Export. There are indications that Manzoor has been nabbed by the Revenue Intelligence. The DRI said the deal is that 70% of the profit will go to Vijin and 30% to Manzoor. The firm had earlier imported masks also. An investigation is underway to see if drug trafficking has taken place under the cover of it.
DRI and Excise officials conducted a search at Mansoor's house in Malappuram, Yamitto International Foods headquarters near Kalady police station and Vijin's house.
Phones and files of Yamitto employees and Vijin's brother Jibin Varghese have been taken into custody. Jibin is the director of Yamitto. Jibin runs a small fruit and juice shop.
It is reported that the drugs were brought to India and smuggled to other countries. Last year, a new company called More Fresh India Pvt Ltd was registered in Kochi for export with Vijin as Managing Director and Jibin as Director.
Yesterday, Excise raided Yamitto warehouses in Kalady and Aluva and seized four phones, transaction documents and swiping machines. The inspection was led by Excise Assistant Commissioner B Tenimon.