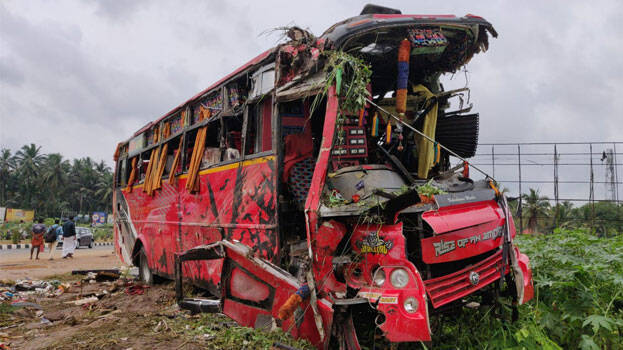 PALAKKAD: An eyewitness said the accident victims were taken to the hospital in a pickup van laden with toddy. 'Many sustained serious injuries in the accident. The condition of five is very serious. The limbs of many were severed. All these were lying on the road along with the seat. The accident victims were taken to the hospital in a van from Chittoor laden with toddy. Only that vehicle stopped then. All are in a critical condition,' said the eyewitness.

Nine lives were lost when a tourist bus carrying students rammed into the rear of a KSRTC bus in Vadakancherry. More than fifty people were injured. The reason for the accident was the over speed of the tourist bus driver. The tourist bus hit the rear of the KSRTC bus while overtaking another vehicle.
The accident happened near Palakkad Vadakkanchery Anjumoorthy Mangalam Kollathara Bus stop at 12.30 am Thursday morning. The bus carrying children of Mar Baselious Vidya Niketan School in Mulanthuruthy, Ernakulam hit behind a KSRTC bus going to Coimbatore from Kottarakkara.
The over-speeding tourist bus hit the back of the KSRTC bus and then overturned. After hitting the bus, it moved slowly and fell into a swamp. The accident occurred while trying to overtake the KSRTC bus. Eyewitnesses said the tourist bus overtook many other vehicles. In the impact, a part of the KSRTC bus was inside the tourist bus.

Six men and three women are among the dead. Rohit Raj (24) of Thrissur Nadathara Kozhukulli Gokulam, O Anoop (22) of Kollam Valliyodu Vaidyankunnu Shanthi Mandiram, Nancy George, V K Vishnu, employees of the school are among the dead. Police said nearly 50 people have sustained injuries. The death toll is likely to rise.