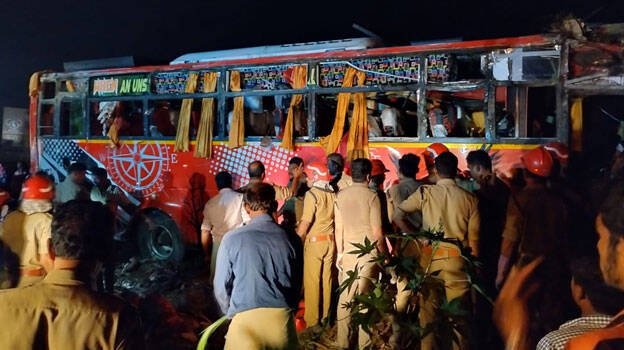 PALAKKAD: 'When I first saw it, it was horrific. There was a dead man on the ground. Severed limbs were there. It was a terrible situation". These are the words of the conductor of the KSRTC bus that met with an accident in Vadakkancherry. He says that none of the vehicles that passed by were ready for the rescue operation in the first phase.
"When we tried to take the injured to the hospital, the people in the first three or four cars were inconsiderate. They weren't ready to take the injured and left. The pickup van that came after that helped to carry the people. The locals also helped a lot in the rescue operation.", the KSRTC employees said.
Nine lives were lost after a tourist bus carrying students rammed into the back of a KSRTC bus in Vadakkancherry. More than fifty people were left injured. The reason for the accident was the excessive speed of the tourist bus driver. The tourist bus hit the rear of the KSRTC bus while overtaking another vehicle.
The over-speeding tourist bus hit the rear of the KSRTC bus and overturned. After hitting it, it went sideways and fell into a swamp. Efforts to get the people out of the tourist bus were difficult. The vehicle had to be cut open to extricate the people. Some died at the accident site. Many passengers of KSRTC were seen lying on the road.
The accident occurred around 12.30 midnight near the Kollathara bus stop in Anjumoorthi Mangalam in Vadakkancherry.
As per reports, the tourist bus is on a blacklist under Kottayam RTO. The bus numbered KL 05 AU8890 is owned by Arun. Officials of the Motor Vehicle Department said five cases have been registered against this bus.

The cases against the bus are for installing fancy illuminations that cause difficulties for the vehicles coming from the opposite side. Other cases include illegal air horn and reckless driving.
However, there is no hindrance in running the service even if blacklisted. The officials of the motor vehicle department says that the bus operated by taking advantage of this. Also, school authorities are required to inform the officials of the motor vehicle department in which vehicle they are traveling with the students. They didn't abide by this protocol, which is a major lapse.