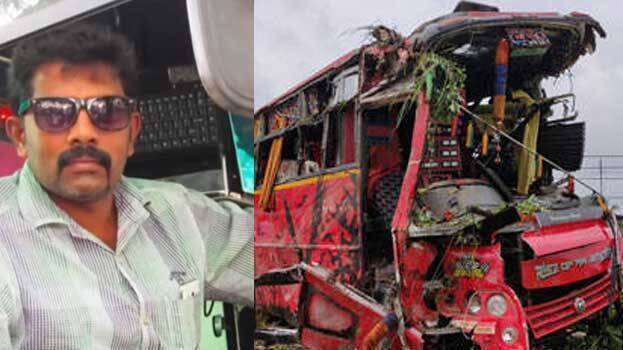 KOCHI: The driver of the tourist bus that met with the accident at Vadakkanchery in Palakkad, leaving nine dead, has been taken into custody. Jomon, the driver was taken into custody from Chavara in Kollam. He was proceeding to the capital city via Kollam. A case has been registered against him for culpable homicide.

He was going to see a lawyer. Two from Kottayam and Ernakulam who helped Jomon to escape were also taken into custody. Jomon was travelling in a car. The police jeep which was behind blocked his vehicle and took him into custody. He has been handed over to the Vadakkanchery police.

Jomon, the driver of the luminous bus, fled after seeking treatment at Vadakkanchery E K Nayanar Hospital. He sought treatment at the hospital under the name of Jojo Pathrose. It was reported that he left the hospital after one and a half hours. The injured Jomon was brought to the hospital by the police around 3:30 in the morning. He was not seriously injured. When the X-ray was taken, it was clear that he had no fracture or bruise. Jomon told the nurses that he was a teacher.

The high court had taken a suo moto case in the accident. Justice Devan Ramachandran also asked who gave the fitness certificate to the bus as flash lights and sound systems banned by the court were used in the vehicle. The court has sought a report from the police and motor vehicle department about the accident.

Nine were killed in the accident that happened near Palakkad Vadakkanchery Anjumoorthy Mangalam Kollathara Bus stop at 12.30 am Thursday morning. The bus carrying children of Mar Baselious Vidya Niketan School in Mulanthuruthy, Ernakulam hit behind a KSRTC bus going to Coimbatore from Kottarakkara.