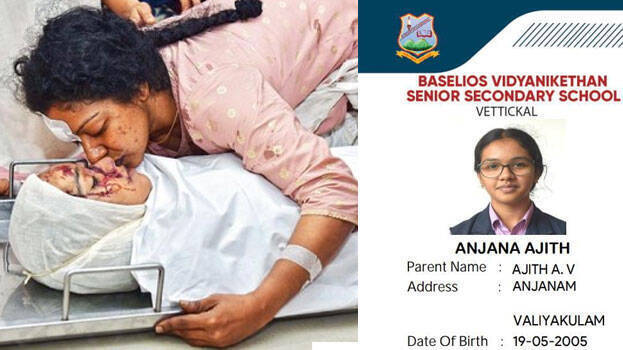 THRISSUR: Asha Ajith (40), English teacher of Baselios Vidya Niketan School in Vettikkal, is in pain after losing her teen daughter, whom she taught in the class along with other children. Asha was also in the ill-fated bus. Her daughter Anjana was with Asha hugging her just before the accident. Asha asked Minister K Radhakrishnan about her daughter when he came to see the accident victims.

'Sir, my daughter was also with me in the bus. Her name is Anjana. Hope she is fine.' The minister immediately contacted the hospital to know about Anjana. After hanging the phone, he hid the sad truth and said she is in the hospital in Palakkad.'

When the minister was about to walk, Asha said that she is sure that nothing will happen to her as she was with her in the seat. I am not seriously injured. Asha asked the minister not to inform her husband about the injuries she sustained. He is a heart patient. If he knows this, he will not be able to bear it. The minister left without being able to answer. Anjana was a Plus Two student of Baselios Vidya Niketan School. Ajith is Asha's husband.