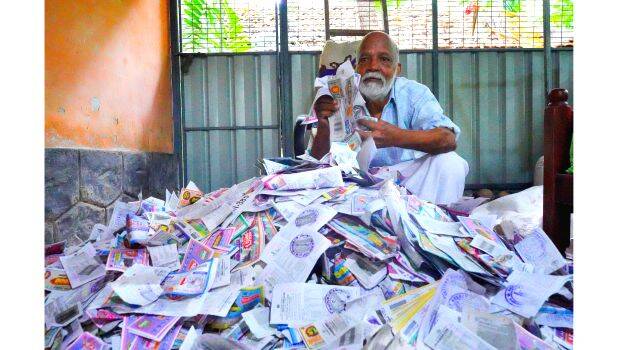 KASARGOD: 75-year-old PP Raghavan has a habit of purchasing lotteries and has spent Rs 3.5 crore for this till now. Although there is no exact count, the majority of the tickets taken are kept in sacks at his home. Raghavan's lottery craze started at the age of 18. He is a farmer.
Even at this old age, he continues buying lotteries, a habit that started 57 years ago.
He first experimented in Bhutan lottery worth Rs 1 which was available back then. He continued buying inter-state lotteries until they were banned. He got small prizes occasionally. The highest prize received from Kerala lottery is Rs 50,000.
Raghavan is the favourite customer for agents. There was a time when he used to spend Rs 500 to Rs 3000 per day on tickets. For 15 years, he took tickets by traveling to Payyannur and Kanhangad. He started storing purchased tickets ever since the start of Kerala lottery in 1968. Despite repeated discouragement from relatives and friends, he did not stop his habit.
He doesn't go out much nowadays due to a back injury and lifestyle diseases. But he hasn't completely stopped purchasing lottery tickets. Shanta is his wife. The couple has no children.
A portion of the income from farming is spent on the lottery. He owns one acre coconut farm and paddy fields. Also, he earns through banana and vegetable cultivation. He raised cattle for 10 years. In 1994, he received the award for the best coconut farmer.