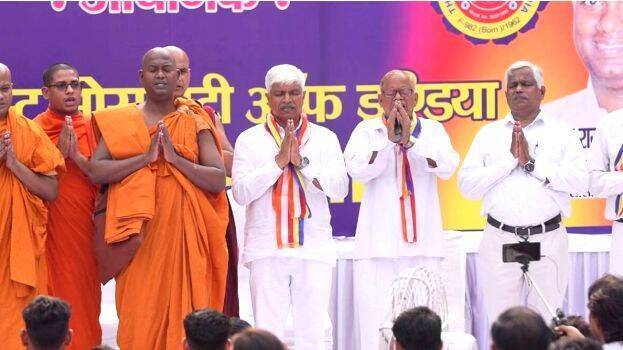 NEW DELHI: Delhi minister Rajendra Pal Gautam has resigned after protests erupted over a controversial video of a 'conversion' event in which he was present. He was the social welfare minister in the Arvind Kejriwal-led Aam Aadmi government. A video of him participating in a religious conversion ceremony had gone viral. The video of Rajendra Pal Gautam taking a vow not to worship Hindu gods and not follow Hindu customs during a Buddhist conversion ceremony held as part of the Dharmachakra Parivartan ceremony on Vijayadashami was used by the BJP as a major political weapon.
Gautam claimed that the same oath was taken by Babasaheb Ambedkar, when he converted to Buddhism and said, "On October 14, 1956, when Baba Saheb adopted Buddhism, he made 22 vows, which we have also taken in the oath."Manoj Tiwari, a BJP MP, had made a demand to expel Rajendra Pal Gautam from the Aam Aadmi Party for hurting religious sentiments.
Responding to the matter, Rajendra Pal Gautam said that the BJP is making baseless allegations and apologizes if it has hurt the sentiments of any religious people.
"I do not want my leader Shri Arvind Kejriwal or the party to be in any trouble because of me. I am a true solider of the party and I will follow the ideals shown by Baba Saheb Ambedkar and Gautam Buddh throughout my entire life," he said.