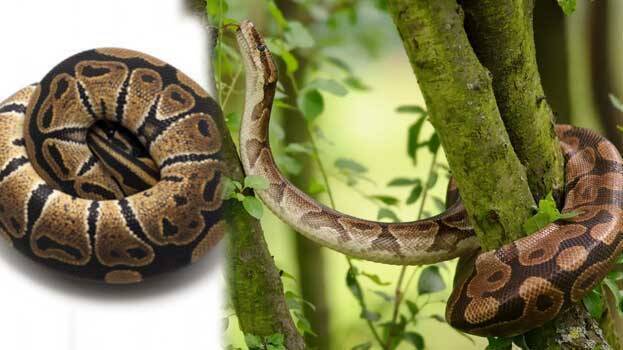 THIRUVANANTHAPURAM: Ball Pythons also known as Royal Pythons, are a new species worth lakhs in the global market. Recently, their illegal import and sale has increased. The Mumbai unit of the Revenue Intelligence Directorate seized 665 animals, including endangered ones last Thursday. These include pythons, lizards, turtles, etc. worth lakhs in the market. Five ball pythons were among those rescued while trying to smuggle them.

The Indian Railways reported illegal animal trafficking in Kerala earlier this month. A man who tried to smuggle a python in the AC coach of Rajthani Express was caught and fined. He was caught while taking the baby pythons from Africa to sell to a native of Kannur.

Ball pythons are snakes found in West and Central Africa. Ball pythons are becoming a favourite among animal lovers in India and fetch a market value of lakhs. That is why their illegal sale is rampant in many centres.

Characteristics of ball pythons
1) They got the name ball python because they roll up like a ball when they get a signal of danger. When danger is sensed, the body is ball-shaped by bringing the head to the middle to protect the head. This is their defence mechanism. Mother pythons also roll their bodies to keep the eggs warm.

2) Ball pythons were used as ornaments by African royalty. That's how they got the name Royal Python.

3) Ball pythons are a favourite of snake lovers due to their non-aggressive nature and long lifespan. Their lifespan is up to thirty years.

4) Ball pythons are dwarf in python species. They are less than five feet long.

5) Ball pythons form part of the diet of many African tribes. Therefore, wildlife conservationists are concerned that their number may decrease gradually.
Their illegal breeding causes many problems in the future. They are likely to be bred out of curiosity and eventually abandoned when interest is lost. This later becomes a threat to the locals. Their creation and presence in the country can pose a danger to the lives of the people living in the area. Moreover, various environmental problems arise due to their illegal cultivation. Their overpopulation can affect the ecological balance.