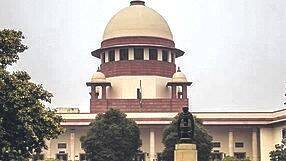 NEW DELHI: The Supreme Court collegium has concluded further proceedings on the recommendation given by Chief Justice UU Lalit to appoint four persons, including a senior Malayali lawyer, as Supreme Court judges. This was after Justice DY Chandrachud and Justice Abdul Nazeer objected to the process of selecting and appointing judges. However, neither of them objected to the names recommended by the Chief Justice.
Names recommended by the CJI are:
KV Viswanathan, Senior Advocate of the Supreme Court and a Malayali
Ravi Shankar Jha, Chief Justice of the Punjab and Haryana High Court
Patna High Court Chief Justice Sanjay Karol,
Manipur High Court Chief Justice VP Sanjay Kumar
The Collegium, which met on September 26, considered 11 people from various high courts. The members of the collegium agreed on the appointment of Bombay High Court Chief Justice Dipankar Datta as a judge of the Supreme Court and forwarded a recommendation in this regard to the Central Government. The collegium then decided to meet again on September 30 as some members asked for more judgments of other judges to be examined. It was decided to meet again on September 30. Just before the meeting, Chief Justice UU Lalit handed over the shortlist of four persons to be elevated as Supreme Court judges to the collegium members.
However, the Collegium meeting was not held that day as Justice DY Chandrachud did not attend. On that day, the bench comprising Justice Chandrachud heard the cases till 9.15 pm. As the court closed for puja the next day, the chief justice wrote to the collegium members seeking approval for the recommendation. Justice Sanjay Kishan Kaul on October 1st and Justice KM Joseph on October 7th informed the Chief Justice that the recommendation was accepted. However, Justice Chandrachud and Justice Abdul Nazeer stated that the recommendation cannot be accepted through a letter without holding a meeting in person. The two judges did not respond to the Chief Justice's letter dated October 2 asking them to submit alternative suggestions if any.
Meanwhile, Union Law Minister Kiren Rijiju had sent a letter to Chief Justice YU Lalit on October 7 asking him to nominate the name of the next Chief Justice. In this situation, the collegium decided not to take further action on the shortlist prepared by Chief Justice Lalit.