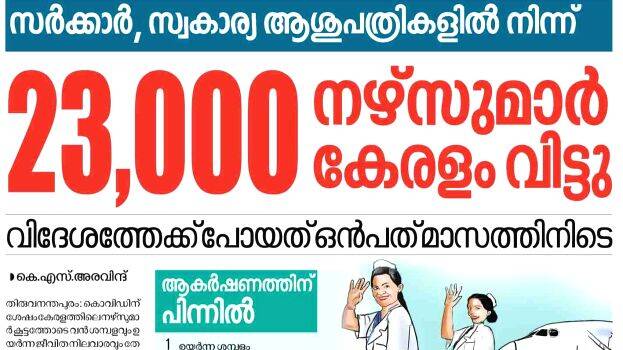 THIRUVANANTHAPURAM: The rising outflow of nurses to foreign countries in search of better pay has resulted in a 20% shortage of nurses in private hospitals.
There is a total of 82,000 nurses in the 514 hospitals, including medical colleges, in the state. Within the last six months about 16,500 nurses have left from these hospitals. The hospitals are running with nurses who have just finished their studies. The inexperience of these nurses will seriously affect the care given to the patients.
The Health Minister's office has asked for a report from the Nursing Council following 'Kerala Kaumudi' report about the outflow of nurses to foreign countries.
When there is a demand of 82,000 nurses, the number of nurses who pass out each year in the state is 9841. There is a demand to increase the number of nursing seats. Also, demands are raised to allow permission for new colleges. The salary must be raised to attract the nurses who have left to other states for better wages.
NORKA reports that 14000 nurses had left to foreign countries for work. The nurses who have gone for visiting and studies abroad are getting in to nursing jobs there.