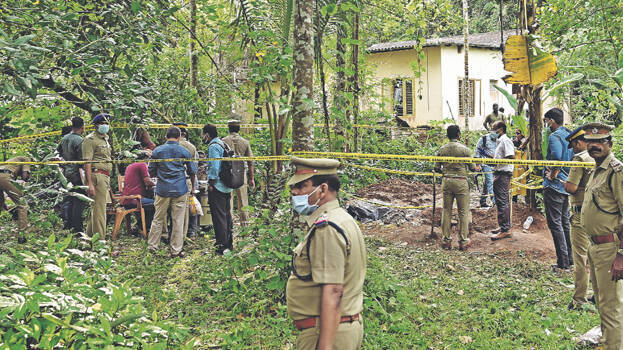 PATHANAMTHITTA: This not the first time that murders connected with witchcraft have happened before in Elanthoor. In 1997, a homeopath named Sasiraja Panicker died while serving his sentence for torturing and killing his four-year-old daughter in Kaniyamkandam, Pookottu in Pariyaram in Elanthoor. The investigation team had found that the reason behind the murder committed by Sasi Raja Panicker in the name of prosperity was to marry his lover, a Cherthala resident. Sasiraja Panicker left his first wife and soon married another. The child born in the second marriage was killed.
The doctor's brutality started with burning a lit cigarette on the baby's body. Meanwhile, he came home with the woman from Cherthala. He made his wife believe that she is a young woman with magical powers. He entered the prayer room with the young woman and kept his wife away. Meanwhile, the child subjected to torture died to severe infection.
After the locals informed about it, the Aranmula police reached the spot on the instructions of Retd.DGP Sreelekha, who was the SP of Pathanamthitta at that time. Panicker's wife's statement was crucial. Panicker, his wife and lover were arrested. Sasiraja Panicker was sentenced to life imprisonment. Others were released after serving their sentences. Sasiraja Panicker died in Thiruvananthapuram Central Jail.