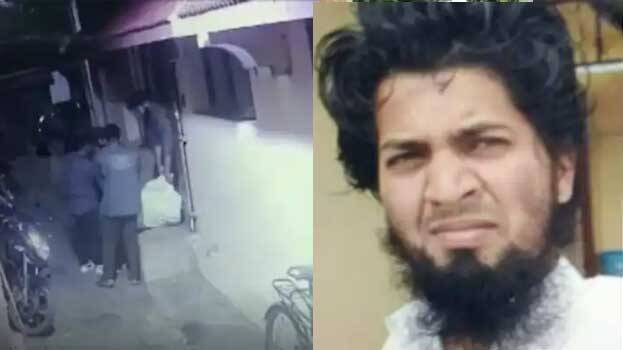 CHENNAI: More information is out in connection with the death of a person in an explosion in Coimbatore. The police suspect that the incident in which the youth died after a cylinder exploded was a suicide attack. The police got more information while examining the CCTV footage related to this. The blast was near a temple in Coimbatore Town Hall at 4 am yesterday. Jamesha Mubin (25), a native of Ukkadam and an engineering graduate, died in the blast.
The visuals show four people loading things in the car exploded. The cylinder kept in the car exploded. The police got the CCTV footage of Kotamedu Sangameshwar temple near the town hall where the blast took place and the visuals of the house of the victim. The visuals recorded at 11.45 pm were examined.

There are reports that the people in the visuals have been identified. The police are in search of them. It is reported that seven people have been taken into custody. The police are trying to find those who contacted Jamesha and those whom he contacted.
Jamesha Mubin was questioned by the NIA for alleged links with ISIS in 2019. The police also stated that the NIA had raided his house. The reason for suspecting a suicide attack was the discovery of a cache of explosives during a search at Jamesha's house in Ukkadam. Police found potassium nitrate, charcoal, sulphur and aluminum powder from Jamesha's house. The police concluded that he had planned a big blast as Diwali celebrations were going on in the city. The police suspect that Jamesha was not alone in the house in the last few days and the people seen in the CCTV footage may have been with him.

The investigating officers said the cylinder exploded when the youth tried to get out of the car after seeing the police at the check post. He was the only one in the car. The police found that this car had been transferred nine times. A Maruti 800 model car registered in Pollachi was used for the blast. The car has been completely damaged. Another LPG cylinder, steel balls, glass stones, aluminum, iron, marble chips and nails were recovered from the car. A temporary shelter at the temple gate was partially destroyed in the blast.

Security has been tightened across Coimbatore following the blast. High alert has been issued in Tamil Nadu. Security has been beefed up in view of Diwali celebrations. The state police chief is directly coordinating the security. Vehicles entering the city were also inspected.