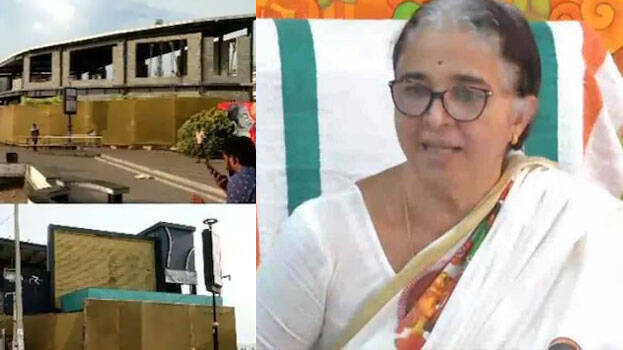 KOZHIKODE: I have not taken a stand after bowing to political pressure in the incident of an illegal construction of a firm owned by A N Shahir, brother of Speaker A N Shamseer, said Kozhikode mayor Beena Philip. Talking to the media, the CPM mayor said the construction has been noticed as illegal and there will be no compromise on it. The harbour minister had ordered a probe soon after the allegations of collusion in the deal of taking the building of the harbour department at south beach on lease for 10 years. The corporation had made their stand clear. The report of it will be submitted next week.
Mayor Beena Philip said that as the construction has been found illegal, the stop memo will not be withdrawn and cannot say that there is political pressure if a politician's relative is involved in the issue. The port officer had sent a letter to the corporation stating that international brands coming in the building will boost the tourism sector and as it will be beneficial in future, the restrictions should be lifted. However, there are no chances for such justification for an illegal construction.
It is clear from the RTI Act that the building was given on lease without inviting tenders. The rent has not been paid so far even after a month of signing the contract. A firm named K K Pradeep and Partners carried out illegal construction on the beach without the permission of the Corporation or the Coastal Management Authority. Speaker's brother Shahir, R P Amar and K K Pradeep are the managing partners of the firm.
Shahir is also a party in the contract documents signed in January with port officer K Aswini Prathap. Port Department's 'Seaman Shed' building and 15 cents of land were given on lease. The rent is Rs 45,000 monthly. However, this is an area where an amount of Rs 2 lakh will be obtained. The explanation of the port department is that Pradeep had leased this building earlier and that is why it was given again. The firm has made an investment of about Rs 3 crore here. The explanation of the port department is that after ten years it will be an asset to the port.