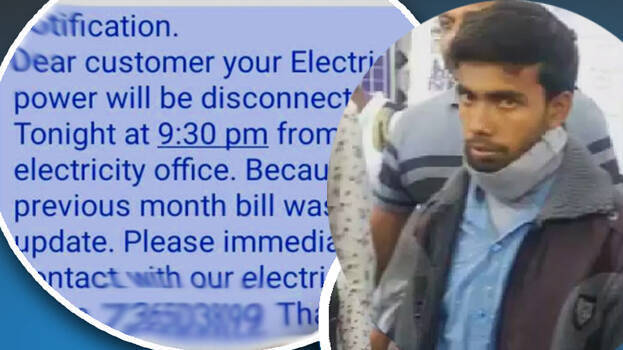 ALAPPUZHA: A Jharkhand native has been arrested in a cheating case for extorting Rs 2,50,000 from a native of Chettikulangara by sending a fake message about due in the electricity bill. Alappuzha cyber crime police team reached Jharkhand and arrested the accused Kishore Mahato. He lives in the forest area of ​​Jharkhand and has bank accounts in different states.
The accused Kishore Mahado committed online fraud by sending fake message stating there are dues on the electricity bill. He sent a message to Chettikulangara native's WhatsApp saying that the electricity connection will be disconnected within 24 hours. A fake bill with KSEB logo was also attached along with it. The instruction was to send the due amount immediately to the number provided in the message. The Chettikulangara native sent Rs 625 as mentioned in the bill.
Within ten minutes after paying the money, Rs 2,49,000 was withdrawn from his account. This amount was transferred through three bank accounts within half an hour. A team led by Alappuzha Cyber ​​Crime Police CI Vinod Kumar arrived in Jharkhand and caught the accused. He was brought to Alappuzha and the police is questioning him. Kerala Police had warned many times about such scams through Facebook posts.