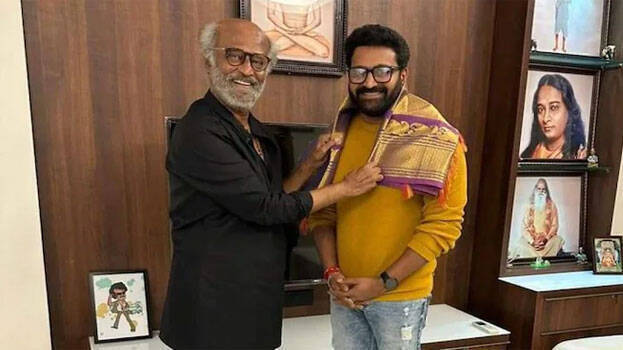 'Kantara' is a Kannada film that has won the praise from critics and general audiences across the nation. Celebrities are among the people who have publicly showered praise on the movie. Superstar Rajinikanth is one among those who loved the movie and he has now gifted a gold chain to the film's director and hero Rishab Shetty as a token of appreciation.
Rajinikanth said that movies like Kantara only happen once in 50 years. He had earlier described Kantara as a masterpiece of Indian cinema. He also congratulated Rishab Shetty and the entire cast and crew of the film on Twitter. Rishab visited Rajinikanth's house on October 29 and met him. It is indicated that the chain was given as a gift.
Kantara is one of the highest-grossing Indian films of 2022. The film has got a rating of 9.4 on IMDB. Saptami Gowda is the heroine of the film. Kishore, Deepak Rai Panaji, Achyuth Kumar and Pramod Shetty are the other stars. The film is produced by Hombale Films, the production house that produced KGF movies.