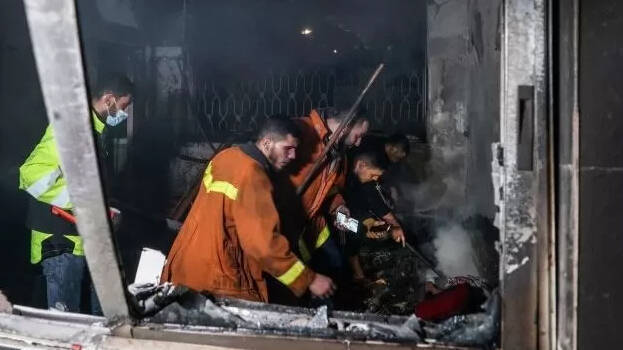 GAZA: At least 21 people, including 10 chidren, died in a large blaze in a refugee camp in the city of Gaza in Palestine. According to international media outlets the blaze was caused by a cooking gas leak. Many people have suffered severe burns and the death toll is expected to rise.
Palestinian authorities stated that the fire was brought under control after hours of effort.
The fire broke out in a densely populated refugee camp in the Gaza Strip. About eight refugee camps function here. A large amount of fuel was stored here to run the generator. The fire broke out when a member of a family in the refugee camp was celebrating his return from abroad.

Palestinian President Mahmud Abbas declared the refugee camp fire a national tragedy.
At the same time, Israeli Defense Minister Benny Gantz tweeted that they will help transfer the injured to a hospital in Israel. The search for alternative ways to solve the power shortage often leads to fires in Gaza. Gaza has the highest population density in the world, with 2.3 million people living there. About 600,000 refugees live in eight camps in Gaza, according to UN figures.