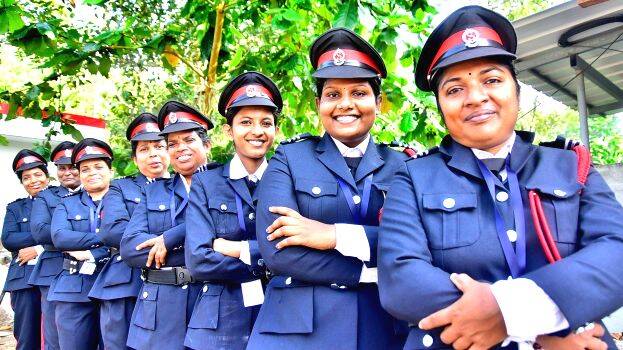 ALAPPUZHA: Let the occasion be anything, for security and safety, there is always Kanjikuzhy's women security force. The security force consists of total eight members, including two college students and 46-year-old laborer. Many are approaching the 1558 Service Cooperative Bank to hire their services.
Their services are provided for inaugurations, weddings, house warming, etc. Bank President, Adv. M Santhosh Kumar is behind the formation of this security force. Seven years back, the bank had begun a catering service by women called 'Vanitha Selfie'. This was the inspiration for the security force.
During Covid, an eight-member self-help group was formed. The bank gave Rs.50,000 as loan to for uniforms. Retired police officers, and motivational trainers were brought to give training to the women. They were given training in awareness, body language, and behavior.
These women took care of the parking and traffic during the Nava Kerala program by the state government. They also have made their bit of mistakes too. When the organizers strictly gave orders not to pass any vehicles, the security team even blocked the Magistrate's car.
Their uniform is also unique with dark blue pants, full sleeve coat, white shirt, tie, cap, shoes, and walkie talkie. This resembles the uniform of the Russian police. The maximum duration of their duty is five hours with a daily salary of Rs.500. The money that is charged by the bank for their services is fully given to the women.
The security force members are S Renuka, O Latha, R Shymol, Ananya Pradeep, Rukma S Raj, S Soumya, O Leju, and O Ashamol.