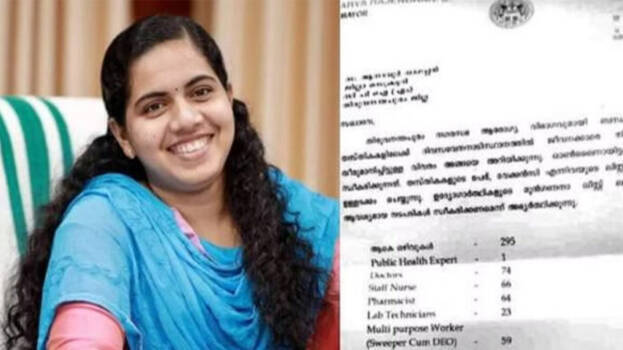 THIRUVANANTHAPURAM: The crime branch team probing the recommendation letter controversy in the Corporation will record the statement of Mayor Arya Rajendran on Thursday. A detailed inspection will also be conducted in the corporation with the help of technology. The computers in the offices of the mayor, secretary and the accused standing committee chairman will also be checked. Along with this, a list will be prepared and the suspects will be interrogated. Social media, chats and phone calls from which the letter appeared will also be checked. The original signature of the Mayor and the signature (specimen) recorded in the absence of the Mayor will be collected. The model of the Mayor's letterpad and the model of the received letter will be checked for a match using special software.
The crime branch recorded the mayor's statement when the preliminary investigation was conducted. As per the statement, the letter was fake. It was on this basis that the crime branch recommended that a case should be investigated.
The investigation team has come to the conclusion that the recommendation letter circulated through social media may have been prepared within the corporation itself. The opposition also points out that it is possible to find out who prepared the letter and sent it on WhatsApp only through scientific investigation, and because of the delay in filing the case, there is a possibility that many important evidences may have been destroyed.
Meanwhile, the Corporation replied to the Ombudsman's notice yesterday stating that since the letter controversy is under consideration by the High Court, the complaint in this regard does not fall under the purview of the Ombudsman. The Corporation secretary replied that the case pending before the High Court won't be having validity before the Ombudsman under the KP Act, 1994.
The Ombudsman cannot consider the complaint as the police investigation is also going on in the incident. In this case, it was requested that the complaint be quashed. The complaint to Ombudsman was filed by Sudheer Shah Palode, district president of Youth Congress.