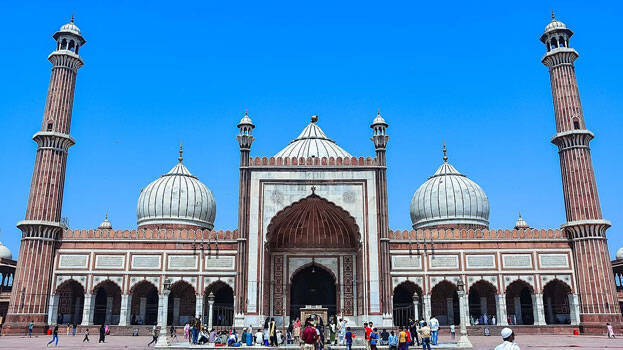 NEW DELHI: The administration of the famous Jama Masjid in Delhi has announced that the controversial order prohibiting girls from entering the mosque has been revoked. According to sources, Imam Bukhari consented to revoke the decision after speaking with Delhi Lt Governor VK Saxena.
The Jama Masjid administration had earlier posted signs outside the mosque that read, "Entering into the mosque for one girl or girls alone is prohibited". The sign boards were placed outside each of the mosque's three entrances.
According to the sources, Delhi LG Saxena requested Imam Bukhari to revoke the order. Imam Bukhari consented to rescind the order with the request that visitors respect and maintain the sanctity of the mosque.
Meanwhile, Delhi Commission for Women (DCW) on Thursday took suo motu cognizance of media reports of restriction on entry of women in Jama Masjid, Delhi without male companions. The women's commission served notice to Jama Masjid Shahi Imam Maulana Syed Ahmed Bukhari. The Delhi Commission of Women recommended withdrawing the ban. The commission asked to submit reasons for prohibiting the entry of women and girls without male companions in Jama Masjid by November 28, 2022, added the statement. Preventing women from freely entering and practicing their religion in the mosque is highly discriminatory and an extremely regressive practice as a place of worship should be open to everyone, regardless of their gender, said the DCW.
"Such an order is clearly misogynistic and against the ethos of the Constitution of India", stated the press release.