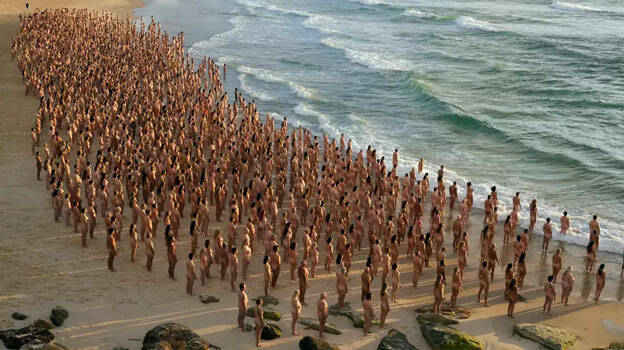 Thousands removed all their clothes and posed nude for a photoshoot today at Bondi beach in Australia. They posed in front of the camera of world-famous US photographic artist, Spencer Tunick. But, behind this nude photoshoot there is a noble cause.
This unusual photoshoot was to create awareness for skin cancer called Melanoma, which is common in Australia. 2,500 men and women posed nude for the photoshoot.
This photo installation is part of the Spencer Tunick's latest project. According to the federal government's report, this year 17,756 people will be diagnosed with skin cancer in Australia and 1286 Australians will die from this disease.
The awareness program was organized in cooperation with New York-based charity organization, Charity Check Champions.
Tunick is famous for taking large scale nude photoshoots. In 2010, he had directed a nude photoshoot at Sydney's Opera House with 5,200 nude Australians.