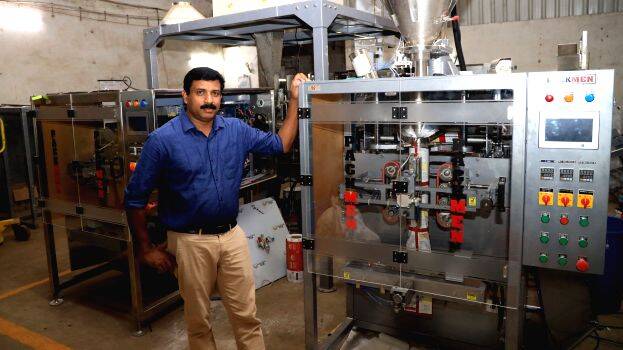 KOCHI: Those who forget to take medicines, and those patients who do not have anybody to sort the medicines and give it to them, need not worry anymore. The machine that is on the table will help you in that. The machine will give you the right medicines in the morning, afternoon, and at night. It is possible for the machine to give medicines for one month.
The medicines are sorted by the machine kept at the hospital. Every packet is filled with tablets and made into a roll. That roll need to be kept in the chamber of the machine kept at home. When its time, an alarm will ring and the packet comes out. If the packet is not taken even after three alarms are rung then a message will be send to WhatsApp of three phones.
The first unit of the machine will be handed over to a private hospital soon.
The designer of this machine, Sanil Anand, 42, believes that as this machine works diligently no one will fail to take their medicines on time. Sanil, who is from Rajakkad in Idukki district, is an electronic engineer and the Managing Director of Packmen Machineries based in Angamaly.
The machine was designed and manufactured for a start up company. It cost up to Rs.70 lakhs. Sanil says that it is the first such machine in the world.
He and two of his friends began Dronacharya Electronics in Kochi way back in 2001. Then in 2013, he began a start-up called 'Packmen Machineries'. Before Covid, the company's turnover was Rs.10 crore and after Covid it rose to Rs.25 crores. There are 72 employees in the company. Sanil plans to start a new unit at KINFRA in April.