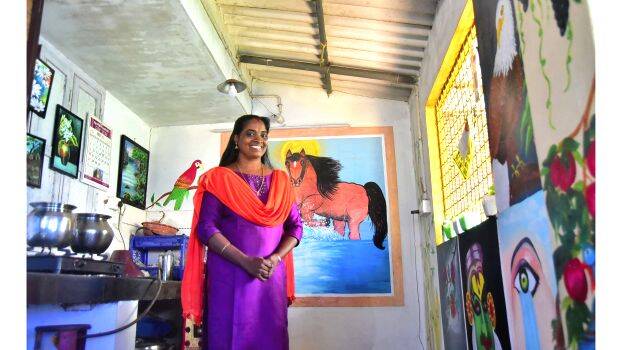 ALAPPUZHA: Sheeba Joshi (43), a homemaker started painting during the pandemic period to reduce mental stress. But now, she is super busy with painting. She started painting using the brush of her husband Joshi, a painting worker. Now she is called to paint pictures in temples, schools and anganwadis and earns a steady income from that. Rs 40 per sq ft is the charge.
Her life changed at a night in June, 2021. She was feeling uneasy and suffocated. She took a brush and painted 3D image of a flowering plant on the dining room wall. When she became okay, she posted the picture on social media. Through Kudumbashree ADS group, the panchayat authorities noticed the picture and they reached her house to appreciate her.
Sheeba used to do pencil drawings during her school days but had no training in painting. But she started it again during Covid days, the walls of her house is filled with her paintings. Now, Sheeba is being trained in drawing by SN Babu, a teacher in Kalabhavan.
Sheeba has also painted in temples, walls of new houses and even anganwadis. She is also drawing the storyboard of a film 'Kummattikadha' by Kishor Cherthala.