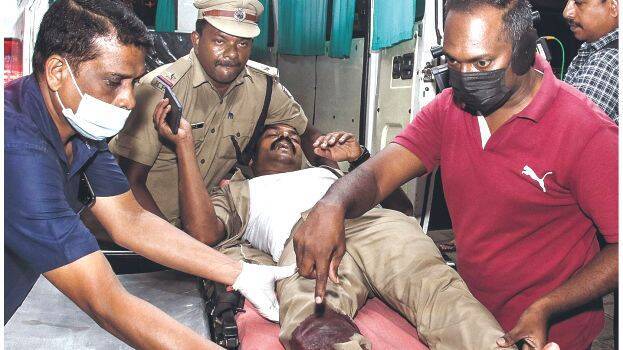 THIRUVANANTHAPURAM: The anti-port protesters attacked Vizhinjam police station demanding the release of five persons arrested by the police. Archbishop of Latin Catholic Diocese Dr Thomas J Netto has been named as the first accused in the case filed by the police on the Vizhinjam clashes.
Thirty-five police officers including Fort Assistant Commissioner Shaji, CI Prajeesh Sasi, and two women police officers were brutally thrashed by the protesters.
The condition of Fort station CPO Sarath Kumar, and Vizhinjam probation SI Liju P Mani is said to be serious. Liju, whose leg bones were broken, was shifted from the medical college to a private hospital for emergency surgery. 16 police officers are admitted to medical college.
As the situation becomes serious, more than 500 armed police from Ernakulam, Alappuzha, Kollam and Idukki districts will reach Vizhinjam today morning.
The attack began at 6.30 pm. The protesters attacked the station with iron rods and oars. They even sent back the ambulance that reached the spot to take the injured police officers to hospital. Four jeeps, two vans and twenty bikes were destroyed by the attackers.
Six hundred police officers from different stations had to be brought to get back the control of the police station. Only after this were the injured police officers taken to the hospitals. The attackers did not leave even after the arrival of Rapid Action Force. The police are not prepared to take them into custody. The police fired tear gas at 9 pm. The conflict is still continuing.
A Vizhinjam resident, Selton, was arrested by the police on Sunday related to clashes on Saturday. By evening Muthappan, Leo, Pushparaj, and Shanki came to the police station demanding his release. When they too were arrested a huge group consisting of women attacked the police station.
The group first pelted stones at the station and all of a sudden went inside and began attacking the police officers. They destroyed the furniture, computers, and wireless sets and through it outside.
Auxiliary Bishop, Father Christudas Rajappan, and Reverend General Eugene Pereira are the second and third accused in Saturday's violent protests.