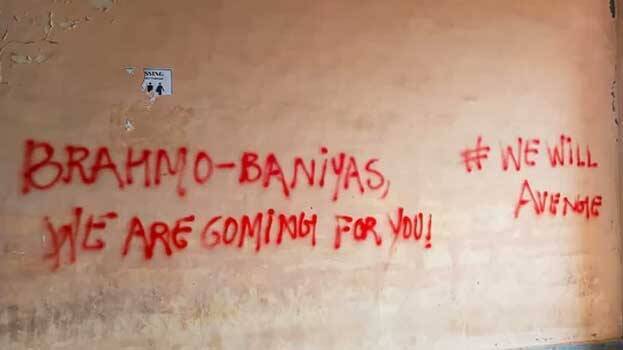 NEW DELHI: Anti-Brahmin slogans were found on the walls of buildings on the Jawaharlal Nehru University (JNU) campus yesterday. The walls of the School of International Studies building were vandalized with slogans such as 'Go back to Shakha', 'Brahmins leave the campus', 'We are coming for you' and 'We will avenge'. These appeared on the walls of the chambers of professors from the Brahmin community like Nalin Kumar Mohapatra, Raj Yadav, Pravesh Kumar and Vandana Mishra.
The JNU Teachers' Forum tweeted that the act was totally condemnable. "While the Left-Liberal gang intimidate every dissenting voice, they appeal to elect EC representatives that "can assert the values of mutual respect and civility, & equal & just treatment of all." 'civility' & 'mutual respect' Highly deplorable act of vandalism!", tweeted the forum.
With the pictures of these writings going viral on social media, slogans saying that the lives of Brahmins are important are also being circulated.
At the same time, the authorities clarified that the university belongs to everyone. The university authorities issued a statement condemning the incident and blaming 'unknown elements' behind the defacement of the campus. An inquiry into the incident has been ordered. ABVP, a student body on campus, also condemned the incident. They also alleged that anti-Brahmin slogans were written on the walls by Left organizations to intimidate the progressive-minded teachers.